HDG Success Story
We recently completed this project for our new client, Eagle Strategies LLC, a wholly-owned subsidiary of New York Life.  They were delighted, and we are excited to share our success story with you.
Client Challenge
The marketing team at Eagle Strategies was looking to create a series of brochures for a financial advisors conference that the firm was attending earlier this spring. The advisors use these brochures to educate their customers about the relationship between them and Eagle Strategies, and the investment services that they can offer through Eagle Strategies.
With a tight production deadline and an already busy internal design team, Eagle Strategies decided to outsource the project. They chose HDG based upon our experience with the financial services industry, and our reputation for delivering beautifully designed, world-class products, and meeting deadlines.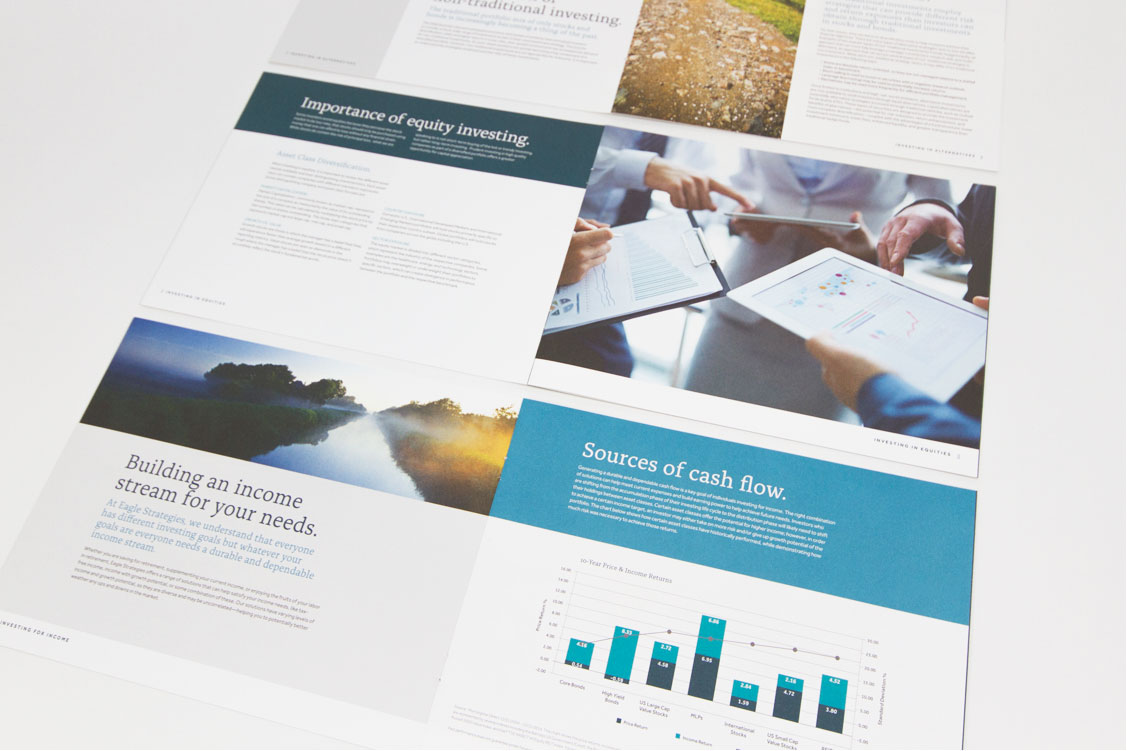 Solution
For each brochure, HDG was directed to design a very professional looking piece that would impress the potential clients of financial advisors, and capture the essence of the values and corporate identity of Eagle Strategies. One of the brochures was to be branded with a broker's logo, so the front cover had to be designed with this in mind.
We created a number of concepts for the marketing team to consider, choosing a layout and artwork that symbolized peace of mind, strength, commitment, responsibility, expertise, experience, and a positive future. Ultimately, they chose a concept that used images from nature and symbols that pointed the way forward. This theme was applied across all the brochures.
Deliverables
We delivered the series of brochures directly to the conference for our client. In adherence with Eagle Strategies' corporate branding guidelines, they were printed in full color on an uncoated white stock for the cover and inside pages, and saddle stitched. Each piece feels beautiful to touch, yet has a sturdiness and strength that is both symbolic of the offering and practical. They have a unified look and feel, which will help to increase brand recognition and differentiate their product offerings from a competitor's.